Medical Center for Birds
3805 Main Street
Oakley, CA 94561
(925)625-1878




Brian Speer, DVM, DIP ABVP, ECZM

Brian Speer was raised in a small town in California's central coast area. He received his baccalaureate of science degree in biological sciences with a concentration in zoology from California Polytechnic State University in 1978, and his DVM degree from the University of California at Davis in 1983. Since 1989, he has limited his practice in the San Francisco Bay area to include exclusively bird species, where his patients include companion and aviary birds, breeding bird collections, zoologic display collections, and performing animals. Brian received his board specialty status through the American Board of Veterinary Practitioners in February 1996, and was certified in the European College of Avian Medicine and Surgery in 1999.
An active member of the Association of Avian Veterinarians (AAV), he has served as chair of the Aviculture Committee, as a director of the board, and as president. He has served as Research Director for the American Ostrich Research Foundation, Veterinary Advisory Council for the American Federation of Aviculture, as a director for the Model Aviculture Plan, on the advisory board for the Advocates for Bird Conservation, and is currently an Avian Medicine folder editor for the Veterinary Information Network.
Brian is well published in the AAV annual proceedings, has served as guest editor for the journal Seminars in Avian and Exotic Pet Medicine, and authored chapters in several recent veterinary medical texts on pet bird, avicultural, and ratite medical topics. He is a co-author of the 530-page textbook, The Large Macaws, published in 1995, and Birds for Dummies, published in 1999. Brian is a sought-after guest speaker at veterinary seminars, avicultural conventions, and bird clubs throughout the United States and abroad.

CLICK HERE to see Dr. Speer's Cirriculum Vitae (CV).
Geoffrey Olsen, DVM, DIP ABVP

Dr. Olsen is a 2006 graduate of Texas A&M University College of Veterinary Medicine. He started his quest to become a "bird brain" as an undergraduate working towards his Bachelor of Science in Wildlife Biology from the University of Vermont. While earning his degree at UVM, he began working with birds as a volunteer raptor rehabilitator.
Later, he managed a raptor center in McKinney, Texas, which provided care for as many as 380 birds of prey in a single year. After 3 years at this rehabilitation facility, Geoff moved on to start his veterinary education. While earning his Doctor of Veterinary Medicine degree, Geoff performed avian iron storage disease research with Dr. David Phalen of the Schubot Exotic Bird Health Center. His research papers won the 2004 Student Manuscript Award from the Association of Avian Veterinarians, and he presented papers on Avian Iron Storage Disease at both the 2004 and 2005 Association of Avian Veterinarians Annual Conferences.
During his 4 years at Texas A&M, Geoff helped instruct his fellow students in bird examination techniques and other aspects of avian medicine throug the Zoo, Exotic, and Wildlife Club. He also spent time doing some volunteer work with the National Parrot Rescue and Preservation Foundation.
In 2009 Geoff completed his American Board of Veterinary Practictioners (ABVP) residency in avian medicine at the Medical Center for Birds. He received his ABVP diplomacy with a specialty in avian medicine in 2010.
His professional goals are to continue learning, to practicing and furthering the field of avian medicine and surgery. Geoff is truly excited about his career here at the Medical Center for Birds.
Geoff is owned by a menagerie of animals at home that include Sherlock the green-cheeked conure, Hunter the black lab, several lizards and snakes, and Natalie, his wife (a veterinarian at Tracy Veterinary Clinic).

CLICK HERE to see Dr. Olsen's complete Cirriculum Vitae (CV).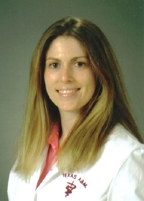 Brenna Fitzgerald, DVM, DIP ABVP
Dr. Fitzgerald is a 2007 graduate of Texas A&M University College of Veterinary Medicine. She received her Bachelor of Arts in Biology from Hendrix College, Conway, Arkansas in 2001.

Prior to joining the Medical Center For Birds, she worked as a associate veterinarian in a private, multi-doctor practice in Dallas, Texas, where she practiced small animal, avian, and exotic animal medicine. Brenna also contributed to a research project at the Gastrointestinal Laboratory, Department of Small Animal Clinical Sciences at Texas A&M University, where she developed a working knowledge of laboratory methods.

Dr. Fitzgerald received her ABVP diplomacy with a specialty in avian medicine in 2012.

Dr. Fitzgerald has had a lifetime love affair with animals of all kinds, but particularly enjoys working with birds. She has always considered veterinary medicine her true calling and has a strong commitment to the health and well-being of every patient. She strives to form lasting relationships with her clients and do everything possible to meet their needs and exceed their expectations.

Dr. Fitzgerald has five babies of her own: Wee Wee the blue-headed Pionus, Alex the Timneh African grey, and her kitties The Cheat, Tigger, and Chester.
Nathaniel Kane, DVM
Dr. Kane grew up in Oakland, CA, spending his high school summers working at a local bird store (Your Basic Bird, Berkeley, CA). His fascination with birds began as a child when he brought home his first pet, a moustache parakeet. He received his bachelor's degree in integrative physiology from the University of Colorado at Boulder in 2008. During his undergraduate years, he spent summers working at several small animal veterinary practices, transitioning over time to exclusively emergency practice. He spent a year between college and veterinary school working full-time in an emergency clinic.
Dr. Kane received his doctorate of veterinary medicine degree with honors from the Colorado State University College of Veterinary Medicine and Biomedical Sciences (Fort Collins, CO) in 2013. While in veterinary school, he conducted several research projects focused on avian species, spoke at annual Association of Avian Veterinarians conferences, and worked with The Gabriel Foundation (Elizabeth, CO), an avicultural and veterinary affiliated parrot welfare organization. His current professional special interests include teaching, clinical communication, and research (especially areas concerning immunology).
Dr. Kane's extracurricular interests include bicycle racing, mastering the art of espresso and bread making, home beer brewing, making stained-glass windows, bonsai tree gardening, theology, astronomy, and spending time with family (avian members usually included).